The newly updated fitness facility comes equipped with treadmills, stationary bikes, free weights, and a universal exercise machine.
A relaxing environment surrounded by lush, beautiful landscaping, these outdoor sanctuaries provide wonderful areas to read, relax or visit with neighbours, family and friends.
The library is fully stocked with books and audio tapes. Books of various genres including romance, mystery, biographies, Jewish history and much more are available.
This elegantly-styled building offers the following:
24/7 On-site security
Secure underground resident and visitor parking
Easily accessible common areas
Multiple games rooms and lounging areas
Large social hall
Newly updated fitness facility
Well-stocked library
Two outdoor courtyards: the street-level garden and the rooftop terrace
Complimentary shuttle bus around the Baycrest campus
Sabbath elevator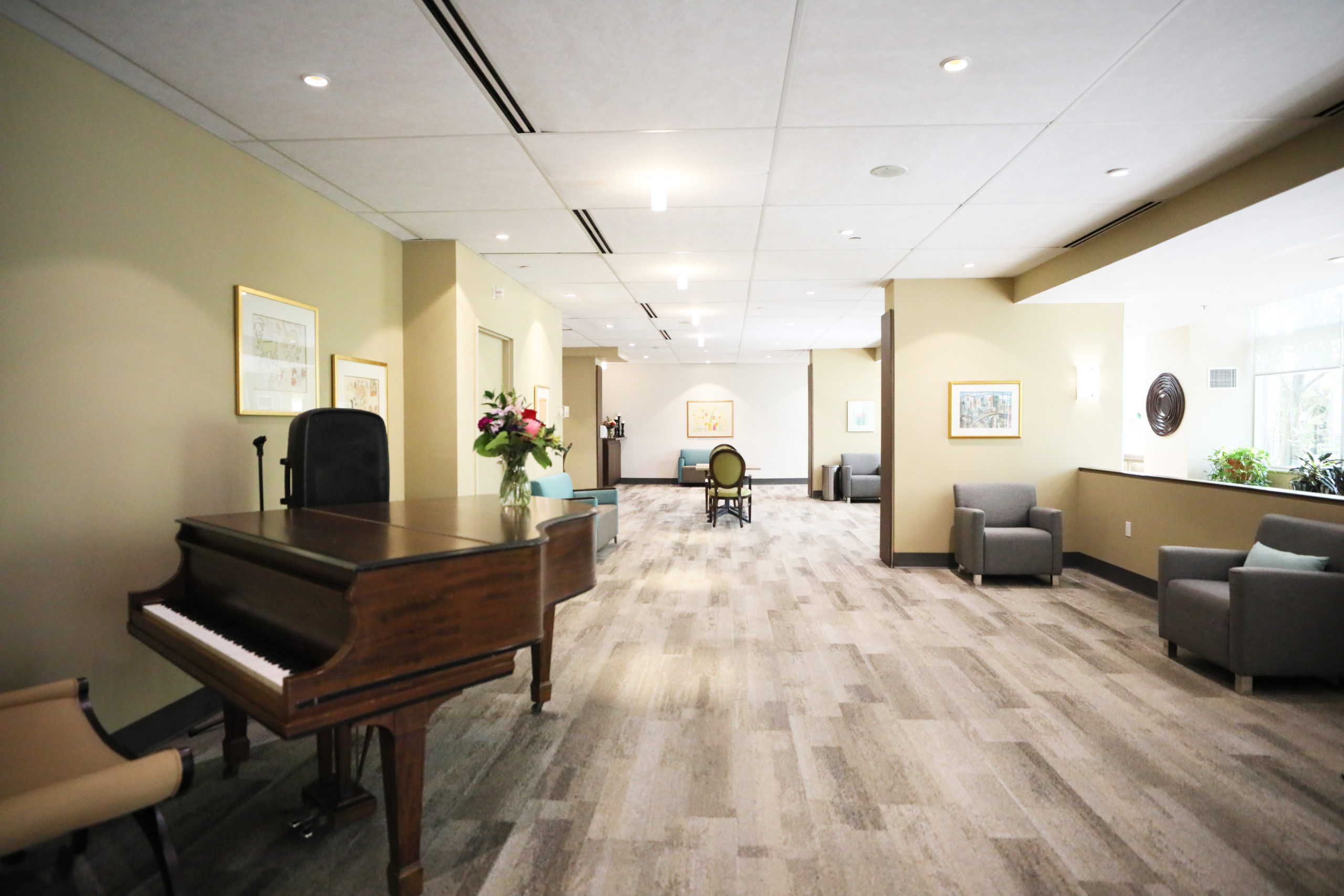 There are three multipurpose rooms in the building.
1. The large social hall with a capacity for 90 people is where most of the building's larger programs take place (movies, exercise, games, choir practice, get-togethers and holiday celebrations).  It also has an upright piano and large screen TV.
2. The 9th floor games rooms has a kitchenette with fridge and microwave as well as seating for up to 20 people.  This room is perfect for a smaller group programs, card and board games.
3.The art studio holds up to 10 people.  This room is for smaller programs, resident council meetings and other multipurpose uses.
These rooms are available for rent by residents hosting private functions.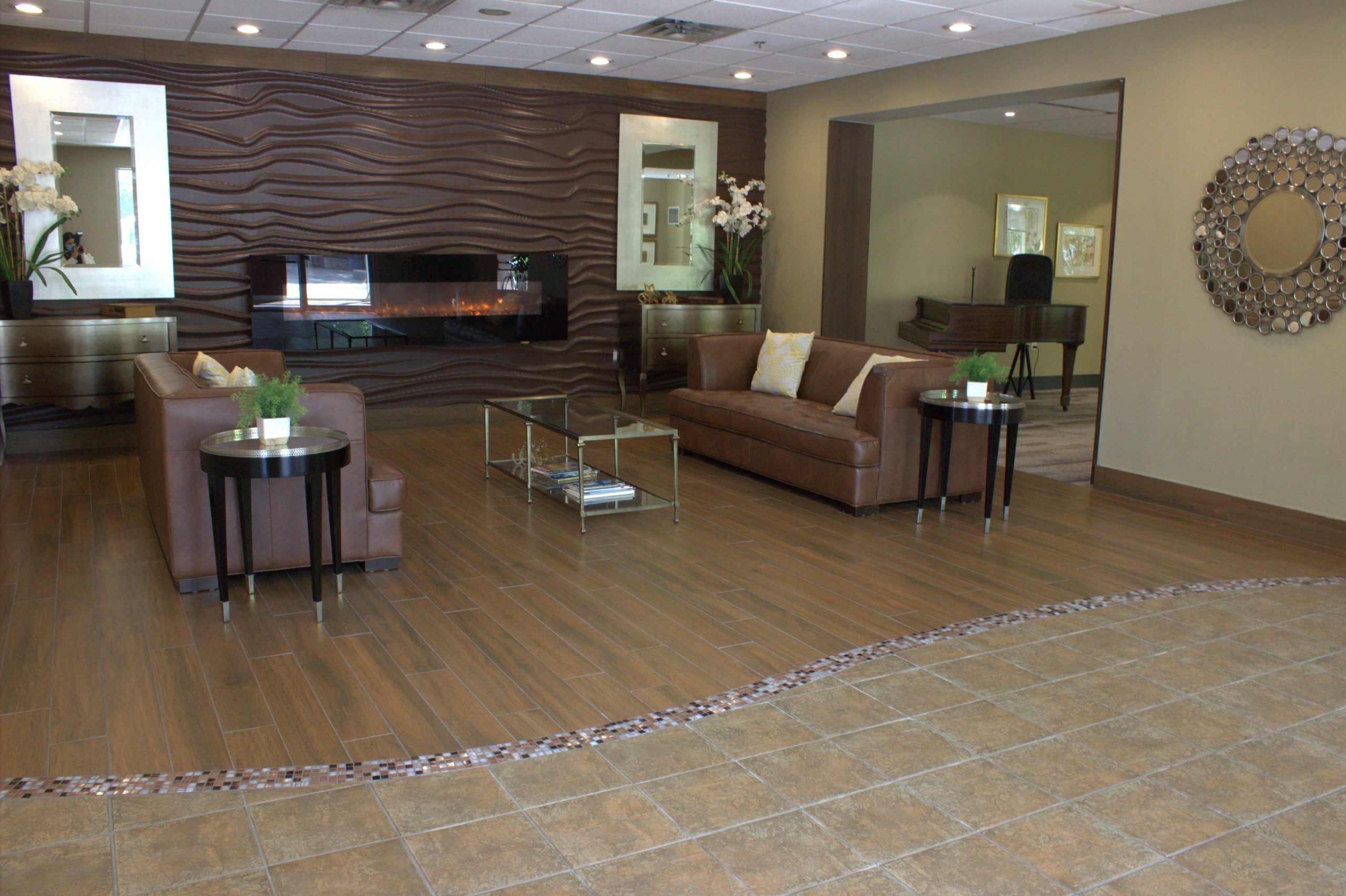 Located on the main floor of the building, this newly renovated area has a large screen TV and plenty of seating for residents and their guests to visit.  It is also the site of the weekly 'coffee club' where residents are invited to enjoy complimentary coffee and treats as well as the well-attended Karaoke nights.  There is also a baby grand piano for those who enjoy tickling the ivories.
Programs and Activities include:
Full time social director
Musical and cultural entertainment
Organized games
Outings
Social activities
Movie and karaoke nights
Holiday celebrations
Abie & Myra K.
We entered 2 Neptune and felt it was a cruise on land! The programs, concerts, happy hour, karaoke, bingo, treats on the holidays, not to mention opera opportunities, and movies.
(more…)
Anonymous
My good times were when we went on field trips to the McMichael Canadian Art Gallery, to see theatre shows in Port Hope and other sightseeing outings.
C.M.
When I came for the tour I noticed that the building was exceptionally clean, organized and had around-the-clock security. It is a well run and safe building with exceptional staff that care about its residents.
Cindy W.
The building is the best thing that happened to my parents!!!  Thank you!
Frieda K.
The people living in the building are very nice and have made many friends since moving to 2 Neptune a couple of years ago.
(more…)
Frieda S.
Best decision Al and I ever made. This has been our home since 2001 and now our friends envy us for making this decision.
H.M.
The highlight for me has been winning four out of eight games during a bingo session.
Morris & Ruth A.
Close to Baycrest, where my wife is an outpatient. We both use the Alpha Omega Dental clinic at Baycrest, and my wife uses the Audiology services as well as other Baycrest amenities.
Pauline D.
I was looking for a home to spend my final years, with good people and fun. I thought maybe I'd move into a retirement home but then wanted to keep my independence.
(more…)
R.L.
The reason I moved to 2 Neptune was because my husband's eyesight was getting bad and he wasn't allowed to drive anymore. In addition, our synagogue was too far for him to walk to every week. (more…)
S.R.
My children, who live here in Toronto, found this building and helped me to buy and renovate my suite, which I love.
(more…)